Progression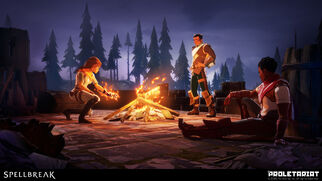 Progression in Spellbreak is primarily tied to a Breaker's Mage Rank, Class Rank, and Chapter Reputation Level.
Upon reaching new ranks the player will either earn new Cosmetics to add to their Collection or

 Gold.
Progress in each Class can be tracked through the Mastery tab.

To rank up, the player must earn experience (XP) by completing matches.
XP is calculated based on the number of accolades you achieve in a match.
Additional XP and Reputation may be earned by completing the weekly Story & Honor Quests, whilst Daily Quests award

 Gold.
All XP earned will be applied to both the player's Mage Rank and Class Rank of their chosen Class that match, as well as converted into Reputation.
Chapter 1 Daily Quests
Name
Objective
Reward
Conscientious Consumer
Use 10 Potions or Shards.
 

5

Rune User
Use a Rune 15 times.
 

5

Chest Pilferer
Open 15 chests.
 

5

Looting Frostborn
Open 10 chests as a Frostborn.
 

5

Looting Conduit
Open 10 chests as a Conduit.
 

5

Looting Pyromancer
Open 10 chests as a Pyromancer.
 

5

Looting Toxicologist
Open 10 chests as a Toxicologist.
 

5

Looting Stoneshaper
Open 10 chests as a Stoneshaper.
 

5

Looting Tempest
Open 10 chests as a Tempest.
 

5

Big Damage
Deal 1000 damage.
 

5

Frosty Ruin
Deal 500 damage with frost.
 

5

Thundering Ruin
Deal 500 damage with lightning.
 

5

Fiery Ruin
Deal 500 damage with fire.
 

5

Toxic Ruin
Deal 500 damage with toxic.
 

5

Stoney Ruin
Deal 500 damage with stone.
 

5

Windy Ruin
Deal 500 damage with wind.
 

5

Frostborn Contender
Finish 2 Battle Royale matches in the top 15 as a Frostborn.
 

5

Conduit Contender
Finish 2 Battle Royale matches in the top 15 as a Conduit.
 

5

Pyromancer Contender
Finish 2 Battle Royale matches in the top 15 as a Pyromancer.
 

5

Toxicologist Contender
Finish 2 Battle Royale matches in the top 15 as a Toxicologist.
 

5

Stoneshaper Contender
Finish 2 Battle Royale matches in the top 15 as a Stoneshaper.
 

5

Tempest Contender
Finish 2 Battle Royale matches in the top 15 as a Tempest.
 

5

Top Ten
Finish 3 Battle Royale matches in the top 10.
 

10

Chest Burglar
Open 25 chests.
 

10

Colossal Damage
Deal 1500 damage.
 

10

Ground Attack
Deal 250 damage while on the ground.
 

10

Air Attack
Deal 250 damage while in the air.
 

10

Frost Power
Deal 500 damage as a Frostborn.
 

10

Lightning Power
Deal 500 damage as a Conduit.
 

10

Fire Power
Deal 500 damage as a Pyromancer.
 

10

Poison Power
Deal 500 damage as a Toxicologist.
 

10

Stone Power
Deal 500 damage as a Stoneshaper.
 

10

Wind Power
Deal 500 damage as a Tempest.
 

10

Smooth Skating
 Ice Skate for 20 Seconds
 

10

Charged Up
Gain 15 Rune Charges with  Overload
 

10

Fly with Fire
Use  Firefly Skill 15 times
 

10

Into the Shadows
Use  Vanishing Mist Skill 15 Times
 

10

Armor Up
Regenerate 500 Armor with  Stoneskin
 

10

To the Sky
Use  Updraft Skill 15 times
 

10

Triple Exile
Exile 3 enemies.
 

10

Uncover the Past
Activate 3 Mana Vaults.
 

10

Multi-exile
Exile 5 enemies.
 

20

Ancient Relics
Activate 5 Mana Vaults.
 

20

Chest Plunderer
Open 50 Chests.
 

20

Maximum Damage
Deal 2000 damage.
 

20

Air Havoc
Deal 500 damage while in the air.
 

20

Ground Havoc
Deal 500 damage while on the ground.
 

20

Top Five
Finish 1 Battle Royale match in the top 5.
 

20
Accolades
Icon
Name
Objective
XP
Winner!
Won the match (Battle Royale)
150
Winner!
Won the Match (Battle Royale)
150
Winner!
Won the Match (Clash)
50
Top 6
Finished Match in the Top 6 (Solo)
75
Top 13
Finished Match between 7-13 (Solo)
5
Top 16
Finished Match between 14-16 (Solo)
5
Top 21
Finished Match between 17-21 (Solo)
5
Top 28
Finished Match between 22-28 (Solo)
5
Top 32
Finished Match between 29-32 (Solo)
5
Top 3
Finished Match in the Top 3 (Duos & Squads)
75
Top 5
Finished Match between 4-5 (Duos & Squads)
5
Top 7
Finished Match between 6-7 (Duos & Squads)
5
Top 9
Finished Match between 8-9 (Squads)
5
Top 11
Finished Match between 10-11 (Squads)
5
Top 13
Finished Match between 12-13 (Squads)
5
Top 10
Finished Match between 8-10 (Duos)
5
Top 15
Finished Match between 11-15 (Duos)
5
Top 18
Finished Match between 16-18 (Duos)
5
Helping Hand
Revived a Squadmate
5
Second Wind
Get back into it (Respawn in Clash)
10
Treasure Seeker
Activated 1 Mana Vault
5
Nice Find!
Equipped a Legendary item
5
Lap of Luxury
Equipped 3 Legendary items
5
First Exile
Exiled 1 player
5
Two Down
Exiled 2 players
5
Three Down
Exiled 3 players
5
Banisher
Exiled 5 players
5
Decaxile
Exiled 10 players
5
The Hunger
Exiled 15 players
5
First Disruption
Disrupted 1 Enemy
5
Double Disrupt
Disrupted 2 Enemies
5
Triple Disrupt
Disrupted 3 Enemies
5
Ultra Disruption
Disrupted 5 Enemies
5
Pardon the Disruption
Disrupted 10 Enemies
5
First Assist
Assisted 1 Exile
5
Second Assist
Assisted 2 Exiles
5
Third Assist
Assisted 3 Exiles
5
Team Player
Assisted 5 Exiles
5
Equal Opportunity
Dealt damage to 3 different players
5
Warming Up
Dealt 50 Damage
50
First Blood
Dealt 100 Damage
225
Damage Dealer
Dealt 200 Damage
200
Putting in the Work
Dealt 300 Damage
175
Combatant
Dealt 500 Damage
150
Merciless
Dealt 700 Damage
125
Pain Train
Dealt 1000 Damage
100
Relentless
Dealt 2000 Damage
75
Endbringer
Dealt 3000 Damage
50
Ultimate Battlemage
Dealt 5000 Damage
25
Level Two
Reached Level Two in Match
275
Level Three
Reached Level Three in Match
275
Level Four
Reached Level Four in Match
275